Jakob Kolding
Exhibition from march the 28th to may the 10th, 2003
Opening march the 27th, from 6 pm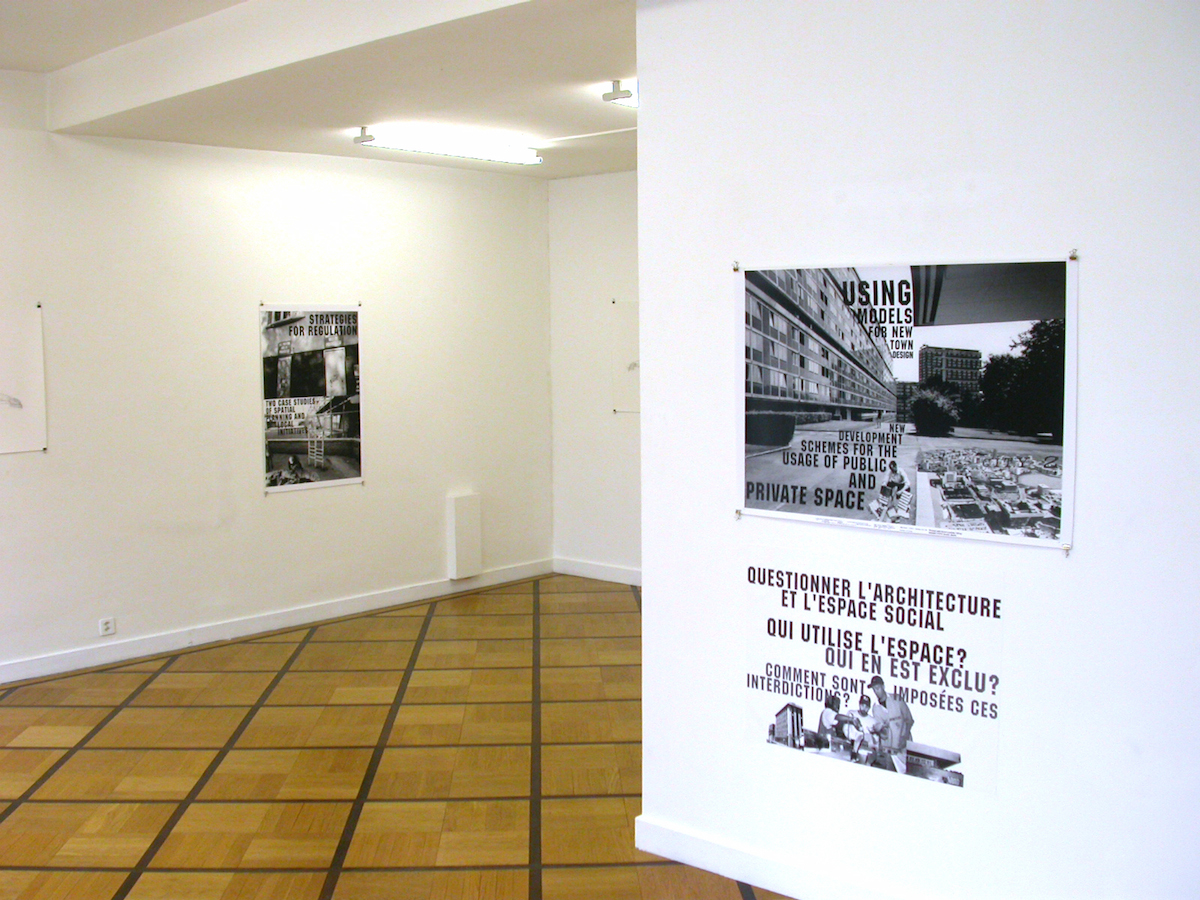 Editions
Posters, artist's publication,briefcase with 18 folded prints, streetview photos of the posters, several texts in french/english : an artist' text, a selection of past projects' texts, a text of Doreen Massey, geographer, french translations of posters' texts, 21 x 29,7 cm, offset, black/white, on paper couché demi-mat blanc 115 gm2, briefcase couché semi mat white 300 gr, 22 x 30,5 cm, 700 copies, edition of the Centre d'édition contemporaine, 2003.
Poster, offset, black/white, on paper affiche couché blanc brillant, 135 gm2, 60 x 84 cm, 700 copies, unnumbered, undated and unfirmed, edition of the Centre d'édition contemporaine, 2003.
Jakob Kolding is a young Danish artist born in 1971 in Albertslund. He now lives in Copenhagen. I point out the place where he was born because he has spent his entire childhood and teenage years there. This experience greatly influenced his vision of society and provided the starting point for his artistic practiced. Albertslund is a suburb on the outskirts of Copenhagen, a perfect example of these ideal cities imagined by late 60s utopian architects and urbanists, very present in Nordic countries. With their egalitarian social vision, these projects derived directly from the garden-cities born in Europe at the turn of the XXth century which started to multiply from the 1920s. The type of program that inspired Jakob's suburb aimed to reconstruct a kind of perfectly autonomous village, where everything was provided for: town hall, church, hospital, meeting rooms, theater, school and kindergarten…Of course, houses were all perfectly identical. Designed with the traditional family of two or more children in mind, each offered the same facilities, the same common and private spaces, both inside and outside. On these hundred or so single houses all practical and decorative details were the same, from mail and milk boxes to sheds and front doors, from gardens and canopies to fences… This repetition erased all social and economic differences, giving these places a minimal and abstract feel that emphasized the global program. While they might seem dehumanizing at first, closer to ghettoes than to ideal cities, bringing together in a single place a specific population and a particular social group, these cities also provided a totally protected and safe environment.
Jakob Kolding is the son of these 1960s/70s utopians?people often involved with progressive projects, who often choose to live there themselves?and his work, with a sense of irony and provocation, rehabilitates this suburbia often considered prison-like today. Aware of the damage and social disparities these isolated suburbs foster, he interrogates their current status, their successes and failures but also their future. In his collages two generations and periods cross, bringing together, juxtaposing and interweaving the photographs, plans and programs of architectural complexes, representations of long-haired architects leaning over enormous models, with images from the sports and music culture of their young inhabitants: graffiti writers, skaters, football players and DJs at the decks. The juxtaposition of the two worlds of idealistic 1970s urban planning and thmore pragmatic projects of recent day dormitory towns, and that of the street and its youth, shows that supposedly difficult suburban contexts can also give rise to politicized attitudes and creative explosions. This re-appropriation of the city finds a youthful and humorous echo in the intermingling of historical references in Kolding's collages, as he breaks from traditional cultural hierarchies by insinuating a so-called sub-culture within the dynamic and elegant esthetic of El Lissitzky or Làszlo Moholy-Nagy's montages, or by associating a young skater's exploits with a great figure from the 1970s such as Robert Morris.
Kolding interrogates the social and cultural preconceptions of our prosperous Western environment, thus opening a space for debate, where power and vital resistance clash: SPATIAL DEVELOPMENT PROCESSES; ORGANIZED OR DISORGANIZED? 1 , or TRANSFORMATION OF PUBLIC SPACE: FROM DOMINATION TO EMPOWERMENT, SPACED OUT? RESISTANCE AND POSSIBLE SCOPE FOR ACTION 2.
Véronique Bacchetta (Translated by Mai-Thu Perret)