Social Hackers
Exhibition from September 13, 2001 till November 11, 2001
Opening September 12, 2001, 6 PM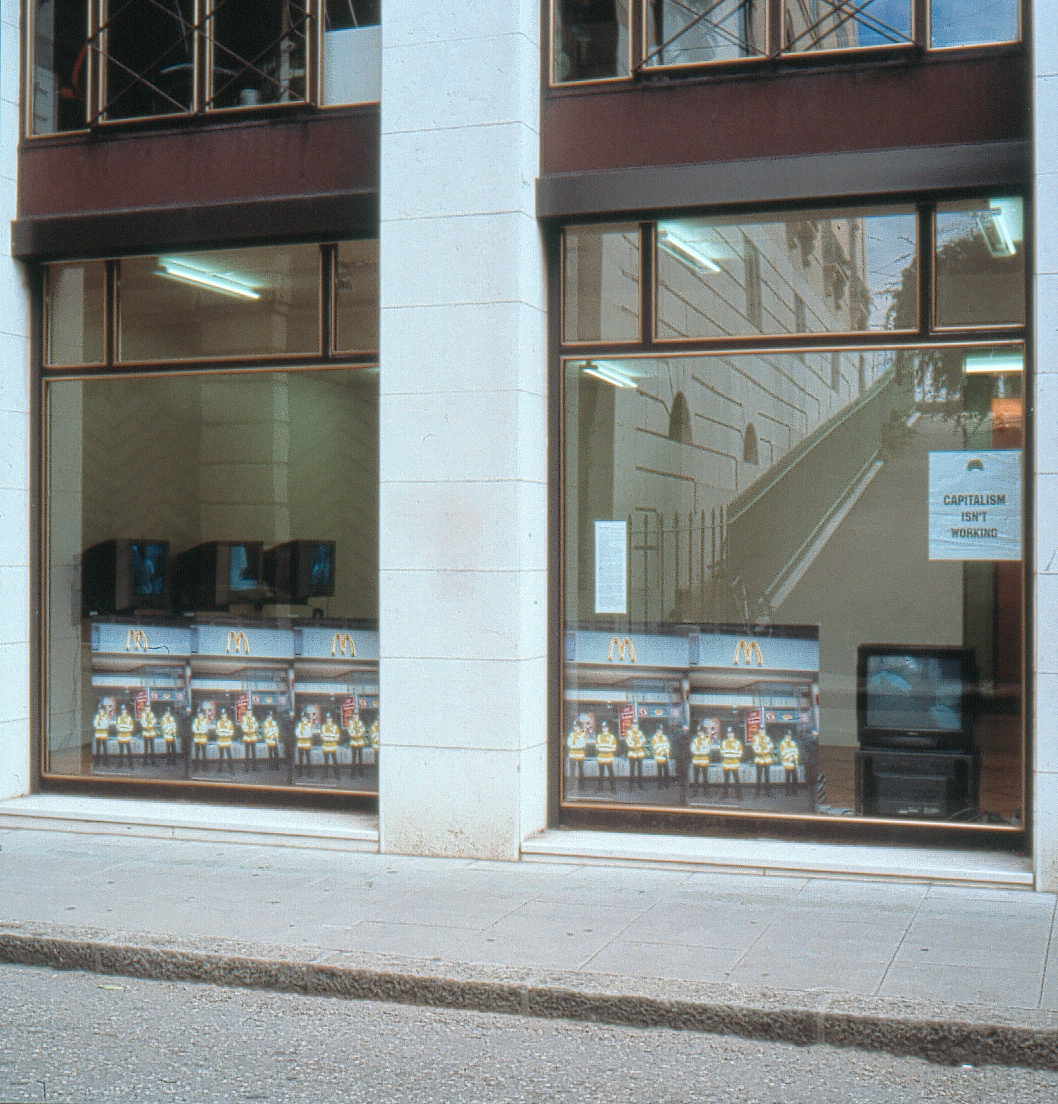 Two exhibitions on communication and power structures and nine free handouts available to the public in dispensers throughout the city of Geneva.
Artists: Jeremy Deller (GB) / Karl Holmqvist (SE)
Matthieu Laurette (F) / Gunilla Klingberg (SE)
Plamen Dejanov & Swetlana Heger (AT) / Jarno Jokinen & Katja Valanne (FI)
Claude Closky (F) / Tuomo Tammenpää (FI) and KLAT (CH)
Organised by NIFCA, FRAME and the Centre d'édition contemporaine in collaboration with Forde, Geneva. Curated by Cristina Ricupero (NIFCA) andb Paula Toppila (FRAME)
The first edition of Social Hackers consisted of a series of three
exhibitions that took place at the artist run gallery MUU in Helsinki during
the autumn of 2000. Each exhibition project involved a confrontation or a
collaboration between an artist from the Nordic region and one from
continental Europe. The second edition of Social Hackers will be held in the
Centre d'édition contemporaine in and Forde in Geneva. The artists have been
chosen by two curators from Nordic art institutions, Cristina Ricupero
(NIFCA) and Paula Toppila (FRAME). In addition to the use of the two gallery
spaces a project initiated by the artist Brett Bloom from Chicago entitled
Dispensing with Formalities, which consists of dispensers situated in a
public space including artists' projects given out for free, will also be
presented in different locations in the city of Geneva. All of the artists
involved will do a special project for the dispenser. A catalogue in English
will be published for the occasion.
This series of projects deals with various phenomena in the field of
contemporary art that both comments and analyses social and political
issues. These works relate strongly to the communication system and power
structures in society problematising both the system and its message. The
artists presented in Social Hackers use everyday familiar codes from the
all-around advertisement, information flow, television, newspapers and
magazines. But they use these signs innovatively, subverting their original
message and context, making fun of these through literal interpretations of
the messages and bringing art into the focus of different contexts –
consumerism, commercialism and manipulation.
There are certain differences between social art of the seventies and these
examples of social art of the nineties. The artists of today do not seek to
make critical comments coming from the outside, but propose projects that
are closely intertwined and function within different social structures.
This slightly hacker-like mentality produces works that disturb our everyday
reception of society. These works contrast with the monumental political
comments of the seventies for they are very subtle, infiltrating the
cityscape. This formal modesty also functions as a political stand, by
criticising the commercial structure and the art work as a commodity.