Karl Holmqvist
Soirée tropicale
2002, november 21
8:00 pm
Centre d'édition contemporaine, 18 st-léger, 1204 Geneva, Switzerland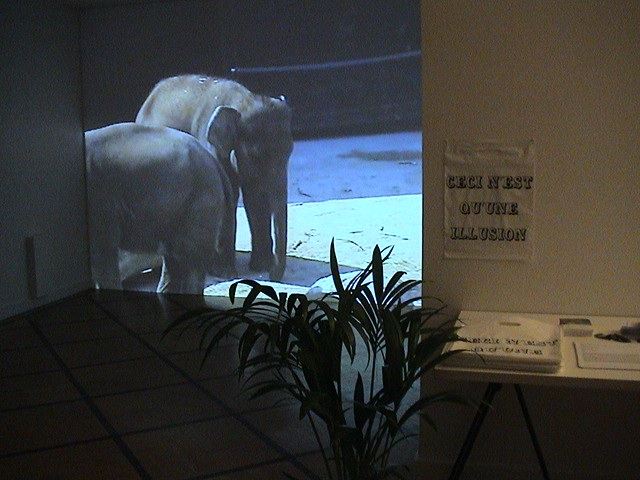 Karl Homlqvist's Tropical Evening
for the presentation of his edition, CECI N'EST QU'UNE ILLUSION, offered to the members of the association of the cec and to anybody else.
Videos
WORLDSAVER (Chiang Mai 2002, 15'30''),
GREEN PARTY (Chiang Mai 2002, 60'),
De Kongelige Elefanter (Copenhague 2002, 23'20)
Posters and publications
Aesthetic movement, REAL Art & Poetry etc.
Music
CHA-BASHIRA L?K?O MusicsystemM,
Greatest Hits ACE OF BASE,
Tigerman TEDDYBEARS STHLM,
Djurens Parad PLUXUS Villa Lecitin
and others
Poetry
SPOKEN WORD: Les Fleurs du Mal
For the multiple offered to the members of the association of the Centre d'édition contemporaine in 2002, Karl Holmqvist (born 1964, lives and works in Stockholm and Berlin) has chosen to produce a utilitarian object: a plastic bag that anybody will be able use. Unsigned and unlimited, designed to be given away, this is an art object which almost isn't one. Disseminated within and potentially beyond the city, it is the vector for a live performance.
The bag carries a message which, according to the artist, has Buddhist connotations: THIS IS ONLY AN ILLUSION. This statement also recalls Homlqvist's performances and actions, where he exposes, in a detached and humorous way, the religious and mystifying drive present in our society, as it brings forth all kinds of messianic figures, from born-again Jesus to Whitney Houston. The artist is interested in illusion makers and new sects and religions of all stripes, whether they come from politics, fashion, and music or from reductive and exalted populist movements: in short, in all those who follow smoke and mirrors.
At the Centre and during his Tropical Evening, Holmqvist will present his edition and propose, as decor, another quintessentially western dream: a very sea, sex and sun beach complete with coconut trees, in a general atmosphere owing more to Fluxus than to the average tourist's expectations. Images gathered throughout during his exotic travels will bear witness to some of the contradictions and non-sense generated by our globalizing contemporary societies. These videos will be accompanied by a musical selection and some publications produced with other artist friends, such as the Superflex group or Jeremy Deller.
Karl Holmqvist will also present a "poetry" reading. This time he will invoke a Great Poet, Baudelaire, and Great Poetry, The Flowers of Evils, although materials for his public readings are generally culled from the more popular lyrics of black Soul or R'n'B divas, who are also modern day saints.
In the past few years Holmqvist has taken part in a number of collective events, in 2000 and 2001 in Helsinki and Geneva, at the Centre d'édition contemporaine for the exhibition Social Hackers, in 2001 at the Situflex Studio in Copenhagen, in 2002 at Kunst-Werke Berlin for a contemporary performance festival, at the Swedenborg Society in London and more recently at the Shedhalle in Zurich and at Stichting De Appel for Haunted by Detail. He will show one of his newest videos in the exhibition Fundamentalisms of the New Order, at the Charlottenburg Exhibition Building in Copenhagen. He was recently invited to take part in an event commemorating the Fluxus movement organized in Wiesbaden by René Block and Rirkrit Tiravanija. A one-person exhibition of his work took place in 1999 at the Bildmuseet in Umea, Sweden, and at the CMU in Chiang Mai, Thailand, in 2002.