Finger No. 12
conventions/
Konventionen/
conventions
Exhibition at the centre d'édition contemporaine (cec), from May 23 to July 19, 2003
Opening Thursday, May 22, 2003, from 6 pm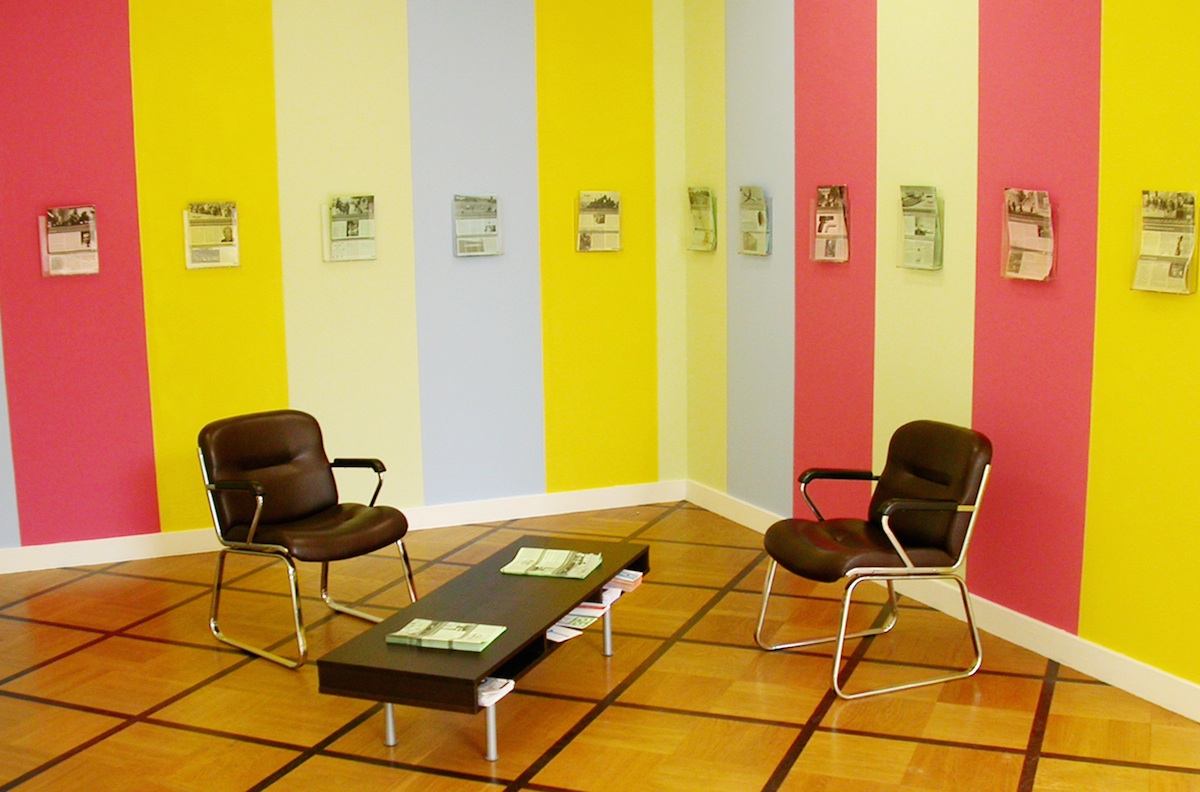 A collaboration between finger (artist collective based in Frankfurt-am-Main, Germany) and three graduating students – Aurélien Gamboni, Sloane Huguenin and Marion Ronca – from the CCC critical curatorial cybermedia postgraduate program of the Ecole supérieure des beaux-arts HES-Genève, and the centre d'édition contemporaine.
finger was founded in 1998. The group, composed today of four artists, Martin Brandt, Florian Haas, Claudia Hummel and Andreas Wolf, aims to undertake research in the form of "fieldwork": mediating actions and alternative realizations which are later regularly documented in their eponymous publication.
A platform for discussion and exchange between artists and authors, finger deals with exhibitions, conferences and publications touching on the new phenomena, whether unconscious, popular, individual or more general which traverse contemporary society, at the level of the everyday, the local and the city, but also through larger economic, social and cultural movements: globalization, immigration, political and social conflicts, new technologies…
At the beginning of the year 2003 a collaboration was initiated between the finger collective and three CCC students, which would lead to the publication of the twelfth issue of the Finger magazine, co-published by the cec and finger. An exhibition focusing on this collaboration and the magazine will take place at the cec, organized by finger and the students. The show will document the collaboration around the new issue, and will also include all the magazines previously published by finger since 1998 – date of the magazine's foundation – as well as archives from various exhibitions and projects by the collective.
The new issue of Finger focuses primarily on conventions regulating the micro-structures of society. Through a series of articles, it attempts to show the influence of decisions taken by Swiss or international institutions–the squat brigade of the Geneva police, the International Organization of Normalization (ISO) or the Centre for Research on Anarchism (CIRA)–on the social conventions, customs and everyday habits of the citizens.
finger no 12 is published by the centre d'édition contemporaine and the finger collective, and was produced in collaboration with Aurélien Gamboni, Sloane Huguenin and Marion Ronca. It brings together essays in French, English and German, including "L'histoire d'une brigade", "The Give-Away Books", "Lew", "CIRA", "Petit Voyage dans le monde des norms", "Match it if you can" and "Das Noizemobil 2000". Offset, black/white, on green paper, 21×29.7 cm, 5000 copies, 2003. Free.