Filière papier – Filière expo
Exhibition from October 31, 2003 to January 17, 2004
Opening Thursday October 30, 2003, from 6 PM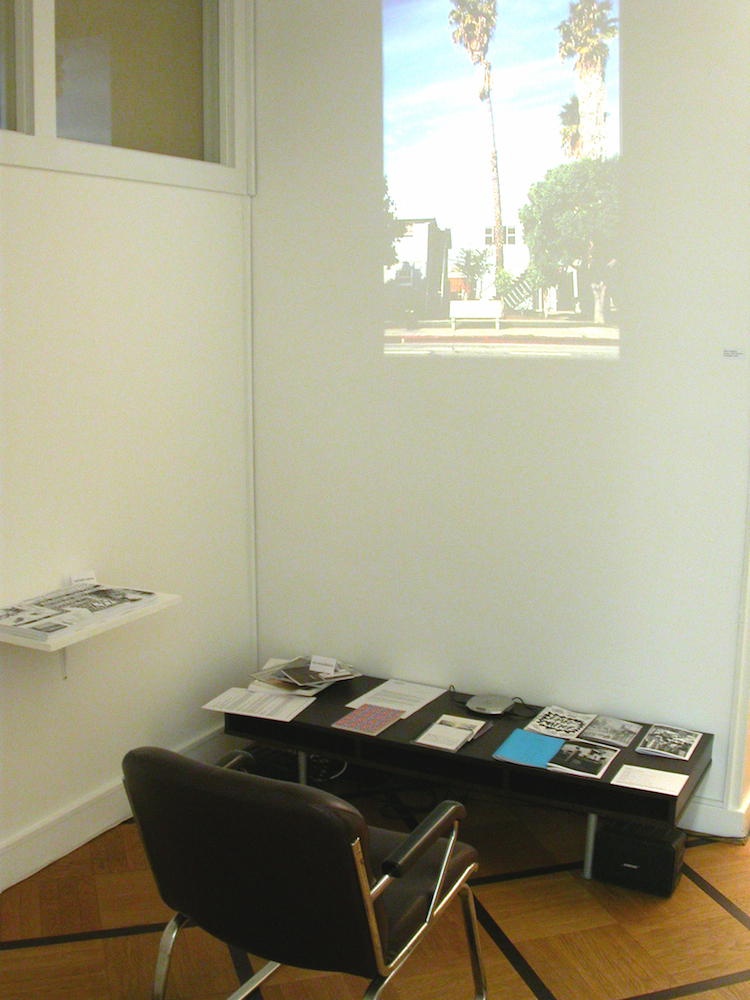 In order to pursue our investigation into the field of the multiple and to consider it as a field of experimentation and test site, this year we have chosen to shift our perspective towards objects that straddle the border between the artistic and commercial systems. Throughout 2003 we have been showcasing publications that operate outside the constraints of traditional channels of distribution and communication, with multiples such as posters and portfolios, fanzines, Xerox books, newspapers and free magazines, distributed – before or after the exhibition – by hand, through the mail, or in public places such as bars, stores, galleries, art centers and museums, …
These light and offbeat alternative editorial practices that remained the province of artists in the past have recently been adopted by exhibition curators, contemporary art centers and graphic designers. Today cheap and speedily produced publications can be used as tools for communication and information both for exhibition projects and for art critics looking for independent media supports.
The expansion of this type of publications has lead us – after having produced similar projects in the past – to invite four independent curators who also often act as editors or publishers, Jacob Fabricius (DK), Maria-Inès Rodriguez (CO/FR), Alexis Vaillant and Eva Svennung (FR). In addition to a wide variety of activities, each are involved in rethinking and liberating curatorial practice from the predetermined role of the curator or the institution director. They have often reinvented contexts and presentation modes and created new attitudes to encounters with the spectators. Independently from each other and in very personal ways, each of these curators has developed strategies giving them more autonomy in relation to institutions (museums, art centers) or the market (art fairs, galleries), by transforming or subverting living spaces: an apartment, a hair salon, a storefront, a bar, public benches or even more directly, the street. The moment of exchange and communication can alternatively be a party, a concert, an event with or without a public, a book, writing, critical texts, or even a direct and personal intervention in the creative process, i.e. real "artistic" collaborations. With no preconceived idea about the value of each particular media, all these different approaches function as a commentary, a distancing mechanism, a critical gesture.
The aim of this exhibition is precisely to showcase innovative and sometimes ironic positions that operate outside the current conventions of contemporary art and exhibition practice, and of the field of publishing and multiples as well, through three new publication projects (5 Xerox artist's books proposed by Jacob Fabricius, the issue n°5 of the Valdez magazine founded by the Valdez family and Maria-Inès Rodriguez, and issues n°1, 2, 3 and 4 of Pacemaker by Toasting Agency, a structure created by Eva Svennung and Alexis Vaillant) which each advocate, in their individual way, a lighter approach to distribution systems.
Jacob Fabricius/Pork Salad Press (DK) : publication of 5 text/image artists book (A5, Xerox, between 16 and 32 pages, 200 copies each), by Céline Duval (FR), Katie Holten (IS), Roman Ondak (SK), Josef Strau (DE), Mads Ranch Kornum (DK).
Jacob Fabricius is a very independent curator and a prolific publisher based in Copenhagen. After collaborating with the Nicolas Wallner gallery, he opened an independent art space dedicated to video and curated a number of group exhibitions. He was a part of the curatorial team for Momentum (Nordic Biennial of Contemporary Art, 2000) and published books through his imprint, Pork Salad Press. He recently opened a small bookshop named Appendiks in Copenhagen and continues working as an independent curator, always proposing innovative and unusual projects that create a direct relationship with the spectator and public space or a more physical and personal involvement. For Rent-a-bench (2002), for example, he invited 36 artists to propose a piece for the advertising spaces of Los Angeles bus stop benches. With Sandwiched (in New York) (2003), he turned himself into a living billboard and walked around for three hours each day wearing one of the boards produced by the invited artists. In his own words: "The sandwich board project is about getting involved directly with the public audience in the streets, testing the role of the curator, making him or her vulnerable, and examining how an artist's work can be displayed outside commercial or institutional structures".
The five photocopied artist's booklets produced by Jacob Fabricius for the Cec are characteristic of the close relationship he entertains with artists. This enables him to produce these small books very quickly, lightly and with very little funds, in a spirit reminiscent of the artists themselves.
Maria-Inès Rodriguez and the Valdez Family (CO/FR/US) : publication of issue n°5, Valdez de oro-anthologie des revolutions of the artists' magazine Valdez, produced in collaboration with three artists: Lucas Ospinas (CO/US), François Bucher (US/FR) and Bernardo Ortiz (CO). The periodical primarily brings together texts and projects by both artists and critics, as well as interviews, inserts, images and drawings, … Every issue includes a flip-book movie in the bottom right hand corner of each page, by an invited artist, Leandro Katz. Valdez de oro is designed by Lucas Ospina (19,5 x 13 cm, 270 pages, black/white, French-English-Spanish, 500 copies each, free).
Valdez is a magazine which was founded in 1995. It was created in Bogota by three artists: Lucas Ospina, François Bucher and Bernardo Ortiz. The magazine comes in a novel format. Most of the texts in the first issue were written by the three publishers/artists, in opposition to traditional magazines: instead of focusing on the news and having a large number of correspondents, Valdez stubbornly refused to depend on current events and remained an "auteur" publication. It looked towards the long rather than the short term. Valdez n°5 is a special issue, the Gold Valdez, an anthology of revolutions. The word "revolution" is used in a wider sense here, as something both individual and collective, microscopic and macroscopic, both inside and outside. Correspondents to this issue were asked to either present a new text or to rescue an already-existing work from obscurity.
Valdez is a magazine that was started in 1995 by three artists in Bogotá, Colombia. It has a small format and traditionally includes a flip-book movie on its lower right hand corner. In the first number the only participant writers were the three editors and the articles that they chose to translate to Spanish. This was recklessly justified by the claim that Valdez was doing the opposite of what the magazine genre prescribes. Instead of emphasizing the "new" it remained stubbornly unrelated to current events, instead of having a multiplicity of correspondents it claimed to be an "author magazine". Since then its correspondents have become more numerous. It nevertheless maintains a steady anachronous pace.
Eva Svennung et Alexis Vaillant/Toasting Agency (FR) : publication of a free newspaper, Pacemaker, foldout, 148.5 x 210 mm, double-sided, 7000 copies, English and/or French. Four issues coming out between Spring 2003 (1st issue May, 2nd issue June for ArtBasel and Liste 03, 3rd issue for the opening of paper field-exhibition field, and the last one at the end of 2003). Art direction of each issue by a new designer (n°1 by Devalence, Paris; n°2 by Swiss artist Valentin Carron; n°3 by Sylvia Tournerie/3 points, Paris, …)
Toasting Agency was founded in 1999 by Eva Svennung (curator, editor) and Alexis Vaillant (curator, editor and critic), to elaborate and produce contemporary art projects. It is an office which produces projects of variable dimensions and speeds; a mobile laboratory of artistic services, an organ for their distribution; a cell as much involved in the exploration of concepts as in the production of artworks, in the projection of films as in the realization of publications, debates and points of view. Pacemaker wants to de-compartmentalize the current critical terrain without falling into a thematic or column-oriented editorial eclecticism. In order to do so, it take on a fanzine form. Pacemaker is: underground, because it is conceived together with artists; irreverent, because it does not attempt to produce a literature "about" art; open, because it directs one back to the "complete works". It is also constantly refurbished through an art direction commissioned from new people every time. Most importantly the editorial team of Pacemaker aims to produce raw materials, impulsions, shorts-circuits, deformatting, waysides, and then to gracefully disseminate this content (for free, from hand to hand, in personalized mailings, distribution networks, availability for free in specific cafés, clubs, art centers, contemporary art museums, …).
Pacemaker is a quarterly. Each issue partially opens its columns to what preoccupies, nourishes, irritates, determines and motivates artists and writers, i.e. those who disapprove of the general climate of cynicism or will not admit that art criticism has missed the train of an art of the present that has supposedly become anecdotical and harmless.